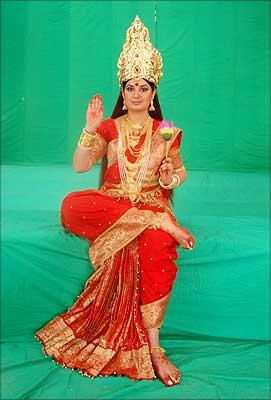 It has been an eventful year for television. Our senses have been exposed to so much hype and hoopla of different reality shows that it is time to do something for the soul.
And come December 29, Star Plus' Jai Maa Durga is ready to take us on an emotional journey of fantasy-reality and good-evil.
Seeking to replace the successful celebrity dance competition, Nach Baliye 3, the devotional fictional weekly, which is produced by Sagar Films Pvt Ltd, aims to 'touch the lives of the ordinary people with its inspirational content and bring their inner strength to the forefront'.
Jai Maa Durga is an adaptation of Durga Shaptshati, and tells the story of relationships, and how circumstances affect these very relationships.
The protagonists are Sumukhi and Surath and their love story which goes through upheavals because of their beliefs in honour and duty, betrayal and distrust.